How Much Money Should You Bring to a Casino?
Is twenty dollars enough? How much cash should you bring to play the slot machines?
by Paul Ace Diamond "Huggy" Blow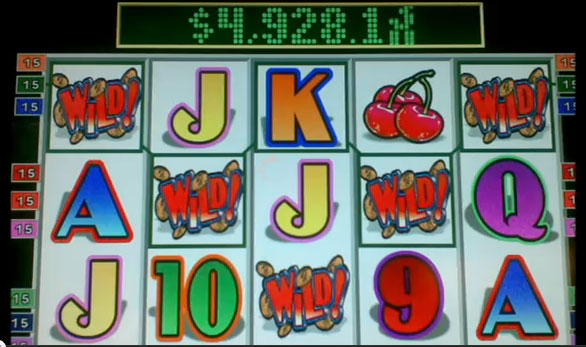 A jackpot win on a hot Copper Dropper slot machine.
People often ask me,
"Mr. Blow, how much money should I bring with me to a casino to play the slot machines? Is twenty dollars enough? How much money should I bring, sir?" How much cash money you bring with you to a casino all depends on what kind of player you are. If you are a low roller, betting small amounts and playing strictly for fun, I'd say bring at least $50 cash money. If you want to bet like a high roller and hope to make a big score, I'd bring at least $200 cash money. If you fall somewhere in between, I would show up at the casino with at least $50-$100 cash money.
Generally, these days, most casino penny slot machines have minimum bets of at least 30, 40, or 50 cents a spin, or even more. Gone are the days when you could play penny slot machines betting just 1-10 cents per spin (unless you find some old, retro games like Copperdropper or Jade Monkey at the casino.) If you were to bring just $20 with you to play with, and hit a dry run on the first slot machine game you play, your $20 could be gone in less than ten minutes. You cannot expect to start winning on the slot machines immediately when you start playing a machine.. that is quite rare. In my own experience playing casino slot machines, I usually lose between $50-$200 before I start getting the good bonus rounds or "big win" spins that put me ahead for the session.
Of course, all casinos have ATM machines, so you can always hit one up for more cash if your initial cash money bank roll runs out. However, you will be charged with fees from both the casino and your bank for each ATM withdrawl, and if you choose to get a cash advance from a credit card on one of these ATMs you will be hit with a large fee (at least $15-20) from the casino PLUS additional fees from your credit card company.
Personally, I like to go to the casinos with $100-180 cash money in my wallet, and I set a limit on my ATM card so that if I ever have a particularly bad night and I go crazy, I cannot gamble away my life's savings trying to win my money back. How much money YOU bring to the casino should depend on how long you want to stay, how much you plan on betting per spin, and above all... how much you can AFFORD TO LOSE.
To increase your chances of winning on casino slot machines, read these articles:
For tips on winning BIG on a casino slot machine, read this article: How to Win BIG on casino Slot Machines

For more on how to find a HOT slot machine read this article: How to find the HOT slot machines in casinos

For more on how to win a bonafide jackpot read this article: How to Win a JACKPOT on Casino Slot Machines



$$$ Go to the Paul Diamond Blow Casino VIP Lounge homepage for even more great casino tips and advice articles $$$