Slot Machine Review: Bally's COPPER DROPPER Slots
Copper Dropper is a simple yet popular slot machine game you will find in most casinos
by Paul Ace Diamond "Huggy" Blow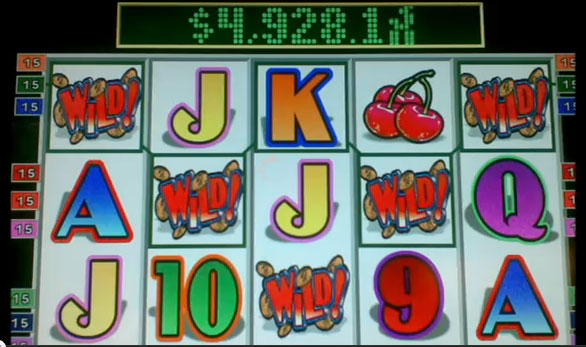 A jackpot win on a progressive Copper Dropper slot machine.
Copper Dropper
(by Bally Technologies) is a very popular penny slot machine game you will find in most all casinos. It is also one of the most simple (and boring) slot machines to play: there are no bonus rounds, no flashing lights, no video animation, no crazy sound effects -- just nine lines of basic slot machine action. Perhaps it is the simplicity of the game that makes it so popular (there are probably more Copper Dropper games at the casinos I've been to in Washington State than any other game, and they are always busy) and since there are only nine lines of play it is a cheap game to play as you can bet as little as one penny per spin (for one line) up to $2.70 per spin (the max bet). I personally like to hit the Copper Dropper game first when I visit a casino, as a "warm up" game. I usually bet 18 or 45 cents per spin.
The "hit frequencey" on Copper Dropper games is around 32% -- which means you can expect to get a paying combination every one in three spins. You can get a low payout for just two nines or two tens, or for at least three Jacks, Queens, Kings, Aces, Cherries, or "Win Big" symbols. Copper Dropper also has Wild Card symbols, and the winning combinations you want are five Win Big symbols (paying $25 for a penny per line bet, or $750 for a $2.70 max credit bet) or five Wild Card symbols (paying $60 for a penny per line bet, or $2000 for a $2.70 max credit bet). The five Wild Cards are the "jackpot" win in Copper Dropper, and on the progressive games the jackpots often go over $4000. Of course, on the progressive games you MUST be betting max credits ($2.70 per spin) to get the higher jackpot.
Good Cents slots
is another penny slot machine that is very popular in casinos and it is basically the same game as Copper Dropper but with a few different symbols. Good Cents also has nine lines of play with a max credit bet of $2.70 and plays exactly the same as Copper Dropper.
Winning strategies for Copper Dropper:
There really are no strategies for playing Copper Dropper or Good Cents slot games since they are so simple -- just keep hitting the "spin" button and hope the Wild Card symbols come up! The only real strategy is if you are playing the "progressive" version of the games you should be playing max credits, otherwise you will not win the higher jackpot if you hit the five Wild Cards. If you are not playing max credits you should stick with the regular versions of the games. Also, if you happen to sit at a Copper Dropper game that produces no good payouts in at least twenty spins, try moving to another Copper Dropper game and try your luck there.
All in all, while being a simple and somewhat boring slot machine game to play, Copper Dropper and Good Cents slot games are good games for beginners breaking into casino gaming, and also for experienced players who prefer the simpler games. I myself have hit five "Win Big" symbols many times on Copper Dropper and Good Cents, but have yet to hit the five Wild Cards... but I'm still trying!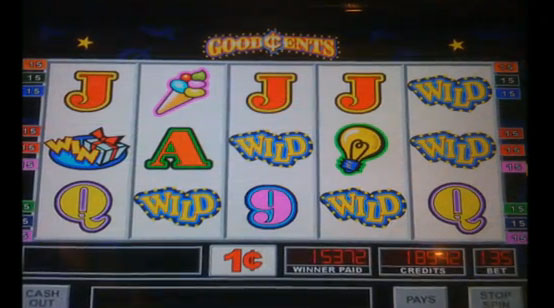 A good win on a Good Cents slot machine.
---
For tips on how to find a HOT slot machine read this article:
How to find the HOT slot machines in casinos
For tips on how to win a bonafide jackpot read this article:
How to Win a JACKPOT on Casino Slot Machines
For tips on how to win BIG on the slot machines, check out this article:
How to win BIG at slot machines