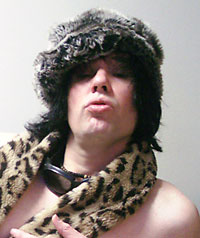 About the author:
Paul Diamond Blow is a musician, spoken word artist, punk rock star, kung fu master, and part time Space Commander living in Seattle, Washington. Blow is a frequent contributor to the Seattle Sinner magazine and performs regularly in the Pacific Northwest rock club circuit. His book Tales From Outer Space is out now.


---





Related articles:
The Best Cash Back Reward Credit Cards (and how to use them effectively)

How to win at casino slots (or at least have a good time)

How to win BIG on casino slots



Paul Diamond Blow's "Huggy Talk" articles are copyright (c) 2011 Paul Diamond Blow
Webmaster: Cornelius Zephyr
privacy policy







Computer Mouse Review: the Evoluent Vertical Mouse
Got Tendinitis? Try the Evoluent Vertical Mouse, The Perfect Mouse for Anyone with Mouse-Clicking Wrist Pain

by Paul Diamond Blow



Back in the year 2007 I came down with a case of tendinitis in my right wrist from excessive computer mousing, as I do computer graphics arts work at my job eight hours a day and also use the computer at home 2-3 hours per day. It got to the point where I could not grab small objects or put pressure on my wrist without a jolt of pain, and to use the computer I had to splint up my wrist. The therapist I was seeing recommended I get an ergonomic mouse, so I did some research and decided to try the Evoluent Vertical Mouse 2. I've been using it now at home on my PC for over seven years it is an extremely comfortable mouse to use and I am very happy with it.

The Evoluent Vertical Mouse 2 is a USB optical mouse which is much taller than your average mouse *thus the name "Vertical") to accommodate a less stressful operation. It has two click buttons for the index and middle fingers and also has a scroll wheel that works well. I purchased my Evoluent mouse online for $59... more than I really wanted to spend at the time, but it was well worth the investment as using this mouse at home has really helped me recover from tendinitis as there is much less stress on the wrist. What makes the Evoluent mouse so comfortable is the grip -- your clicking hand is in a relaxed handshake position rather than twisting your wrist unnaturally the way you grab a normal mouse, and there is much less pressure on your wrist.

At first I tried using the Evoluent mouse at my job, where I bounce between three different Macintosh computers (only one of which has an ideal ergonomic set-up) but the mouse only worked on two of them... on one computer the mouse port would shut down when I'd plug in the mouse and I'd get a message saying it was drawing too much power. So I brought it home and now use it on my home computer where it has worked very well and I have had no problems with it.

The Evoluent mouse works very well for average computer use, but I must say that when doing some detailed Photoshop work requiring precise mouse movement it is harder and more awkward to use than a regular mouse, but it just takes some getting used to. But the bottom line is that with this mouse I can now work on the computer pain free and it's given my wrist a chance to recover. In fact, I haven't had any tendinitis pain ever since.

As far as durability goes, the Evoluent mouse lasts a long time. I have had to replace my Evoluent mouse once so far in the seven years I've been using it -- the wiring on my first mouse got glitchy, so I replaced it with the newer Evoluent 3 mouse, which is still clicking and mousing away, with no problems. I purchased the Evoluent 3 mouse on amazon.com for around $50. The newest version of this mouse is the Evoluent 4, which looks exactly the same as the earlier versions and is sold on amazon.com for around $79.

I highly recommend the Evoluent Vertical Mouse for anyone who has suffered from tendinitis, carpal tunnel syndrome, or any other type of mouse-clicking induced wrist pain. I give it two pain-free thumbs up!