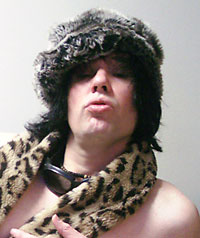 About the author:
Paul Diamond Blow is a musician, spoken word artist, punk rock star, kung fu master, and part time Space Commander living in Seattle, Washington. Blow is a frequent contributor to the Seattle Sinner magazine and performs regularly in the Pacific Northwest rock club circuit. His book Tales From Outer Space is out now.


---





Related articles:
Top ten things to do in Las Vegas on a budget

How to win at casino slots (or at least have a good time)

How to win BIG on casino slots

How to get FREE drinks in Las Vegas casinos

Casino Club Cards: how to use them to earn cash and other benefits


Paul Diamond Blow's "Huggy Talk" articles are copyright (c) 2011 Paul Diamond Blow
Webmaster: Cornelius Zephyr
privacy policy







How to Get FREE Slot Game Play in Las Vegas. Free Money, Baby!
Wanna Gamble on the Slot Machines in Las Vegas with Free Money? Here's How!

by Paul Diamond Blow



If you are going to Las Vegas and planning to hit the slot machines in the casinos, you can actually get FREE slot machine money from some casinos by simply signing up for their rewards card programs. Let's face it, playing casino slot machines is much more fun when it's someone else's money -- and yes, you DO get to keep the money when you cash out. Now then, here's how to get free slot machine money at Las Vegas casinos...

The first thing you should look for, for free slot machine money in Las Vegas, are any advertisements in the local Las Vegas coupon books (they are all over town), or signs in the casinos themselves offering free slot game money for new members of their reward card programs. Most all Las Vegas casinos have these reward card programs that offer a bit of cash back on a point scale, but some Las Vegas casinos also offer a promotion bonus of free money for the slot machines to new members. Usually you must be a non-resident of Las Vegas to get this deal, and not all the casinos offer the free slot game money, but some do -- so keep your eyes open for them.

To get the free slot game money through these casino promotions you only have to sign up with the casino's rewards card program. You must give them photo ID and give them your name, address, and email address and a signature. You will then be given a rewards card that you insert into the slot machines when you play them. Bear in mind that you cannot simply play a few spins on a machine and then cash out... you usually are required to play a certain amount of spins on a machine or bet a certain amount (usually the amount of the bonus money) before you can actually cash and keep any money you have left over from the promotion. Of course, they want you to lose the free slot game money they give you and then continue playing with your own money, but you don't have to do that!

On my most recent trip to Las Vegas (in September, 2010) I received ten dollars in free slot game money at Treasure Island -- five dollars for signing up for a rewards card and five more dollars for giving them my email address. At the Four Queens I also received ten dollars in free slot game money for signing up for their rewards card program. At both places I was required to play a certain amount on the machines but I was able to cash out with most of the free money (since I did lose a bit of dough on my spins). Those were the best "free slot machine money" rewards I found on my trip.

Things to watch out for: Always read the small print before signing up for a Las Vegas casino rewards card! Sometimes they will offer you some free slot game money (usually five dollars) but will require that you earn a certain amount of rewards card points to collect it, and the amount of money required to bet to get those points will far exceed the amount of the bonus money. Stay away from those... they are not worth the five dollars. One free slot game money offer you should definitely avoid is the Casino Royale's offer of $50 in free slot game money for signing up with their rewards program. $50 in free slot game money is the most generous offer I've seen in Las Vegas on my recent trip -- and they advertise this offer in many Vegas coupon books -- but what they don't tell you in the advertisements is that you have to play the $50 on their special "promotional games" and that you can only collect any money from those games if you win the jackpot! Waste of time, and the promototional games they have are old beat up boring games to boot.

There you have it... keep your eyes open for the good promotional deals, read the small print, and you too can get free slot machine money from Las Vegas casinos! GAME ON!