How To Play Penny Slot Machines: a guide for the novice gambler
How much should you bet on a slot machine? How many lines should you play?
by Paul Ace Diamond "Huggy" Blow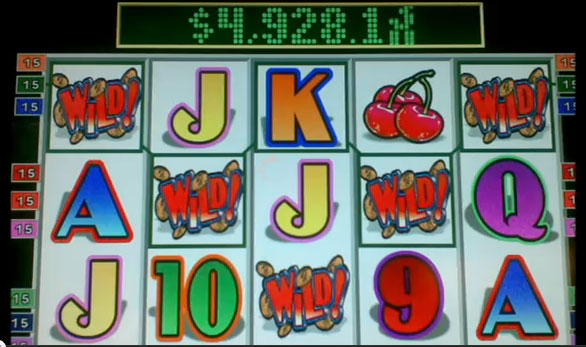 A jackpot win on a progressive Copper Dropper slot machine.
If you are new to casino slot machine gaming
this article is for you. Casino slot machines are fun to play but can be confusing what with the various lines and amounts you can bet per spin, plus the other variables such as scatter awards and bonus rounds. I still remember the first time I went to a casino with a five dollar bankroll and played the Copper Dropper slot machine, betting just one penny (one line) per spin. My five dollars lasted me two hours but I eventually lost it all and it was a boring two hours with few winning payouts (my biggest winning payout was twenty cents). I didn't know what I was doing! Since then I have learned how to play slot machines more effectively (with more payouts and more fun!) and here I will share this information with you, the novice slot machine player.
Most slot machines you will find in the casinos these days are the penny machines, which means the minimum bet is one penny per line played. There are also nickel, quarter, and dollar slot machines which are more expensive to play, but my advice for the novice or average player (who plays mainly for fun) is to stick with the penny slot machines.
Betting the Lines
Most slot machines feature either three tiers of five reels (15 stops or "squares" total) or four tiers of five reels (20 stops total). You win when you get a winning combination of three or more of the same symbol in a row on a payline. The paylines are just that -- lines that run across the reels, left to right. The simplest 3-tiered slot machine games (such as Copper Dropper) may have only 9-15 paylines, while the newer 4 or 5-tiered slot games have anywhere from 30-100 paylines. The paylines zigzag across the reels in different combinations.

The 15 paylines available on a 3-tiered "Catch A Wave" slot machine
On the older penny slot machines you can select how many lines you play per spin, with as few as just one payline (or one penny per spin). Most all of the newer slot machines have a minimum bet of one penny per available payline (meaning a minimum bet of 30 cents on a machine with 30 paylines). Most of the newer slot machines have 30-50 paylines and preset buttons for selecting your betting amount (in multipliers of one, two, three, five, or ten per payline). With all slot machines you can multiply how much you bet per payline starting with the minimum of one penny, up to ten times or more per payline. The "max credits" is the maximum amount you can bet on a slot machine, which generally will be between $2.40 to $5.00 per spin on most slot machines.
You win money on a spin when you get three or more matching symbols in a row on a payline. Four or five matching symbols on a payline will get you much bigger payouts, and there will be different payouts for different symbols. The highest paying symbols, of course, exist on the reels in smaller numbers than the lowest paying symbols and come up in winning combinations more infrequently than the lowest paying symbols.
There are also some video slot machines such as the Aristocrat "Reel Power" games that do not have dedicated pay lines, but instead offer "720 ways to win" or "1024 ways to win." For more information on these games, read this article: 1024 ways to win slot machines
The 40 paylines available on a 4-tiered "Wolf Run" slot machine
How much should you bet per payline?
Generally speaking, my advice is to bet one penny per available payline on each spin. If a game (such as Copper Dropper) has just 9-15 paylines I would multiply the bet to two cents per payline (18-30 cents per spin). Betting on all the paylines will result in more winning spins and a much more fun slot machine experience. Personally, when playing for fun I am most comfortable betting 25-50 cents per spin on the machines. While I like to stick with one penny per payline spins, if a game is paying out I may increase my bets to increase my wins, although I very rarely bet max credits on a machine. While betting max credits on a slot machine can give you very large payouts, it can also burn through your bankroll very quickly if you get a dry run. (More here on how to win BIG on the slot machines)
PAGE 2: JACKPOTS, BONUS ROUNDS, AND MORE...