INSULTS 101: The very best and funniest insult jokes and gags on the web.
"He's the kind of fella that girls dream about at night -- it's better than seeing him in the light."
HA HA HA! INSULTS, GAGS, JOKES HA HA HA! INSULTS, GAGS, JOKES HA HA HA!
Welcome to INSULTS 101. You ever wish you could come up with a snappy comeback to shut up that jerk at the office? Ever wish you could come up with clever zingers to impress the girls? Ever wish you could be the life of the party with clever jokes? Well, here at Insults 101, we've collected the best insult jokes for every occasion!
That's right, we've got ugly jokes, stupid jokes, fat jokes, dumb blonde jokes, drummer jokes, etc. etc... only the best and funniest insults, gags, and jokes! All here for your amusement! The insults are divided into different categories below... so check it out, and you too can be the life of the party! HA HA HA HA HA!



DUMBELLS, IDIOTS, MORONS
Insult jokes about dumbells, idiots, morons, do-dos, and buffoons!

FEATURES: UGLY, FAT, SKINNY, ETC.
Insult jokes about ugly people, fat people, skinny people, funny looking people...

JERKS, EGOTISTS, TIGHTWADS
Insult jokes about jerks, braggarts, cheapskates and egotists!

BOOZERS & LOSERS
Insult jokes about alcoholics and losers, man!

DRUMMER JOKES
Every musician loves a good drummer joke -- here are the best of 'em!

DUMB BLONDE JOKES
Everyone loves dumb blondes! Here are the best dumb blonde jokes!

YO MAMA JOKES
Insult jokes about yo mama!

DONALD TRUMP JOKES
Having Donald Trump as president got you down? Enjoy these hilarious Donald Trump jokes!

more insult jokes coming soon!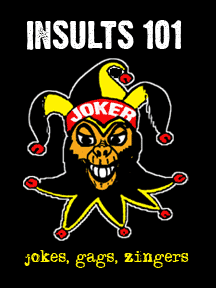 Insults 101
Jokes, gags, zingers
Webmaster: Cornelius Zephyr
privacy policy