Slot Machine Review: Multimedia's Mega Meltdown
Mega Meltdown is a popular classic style slot machine you will find in most casinos
by Paul Ace Diamond "Huggy" Blow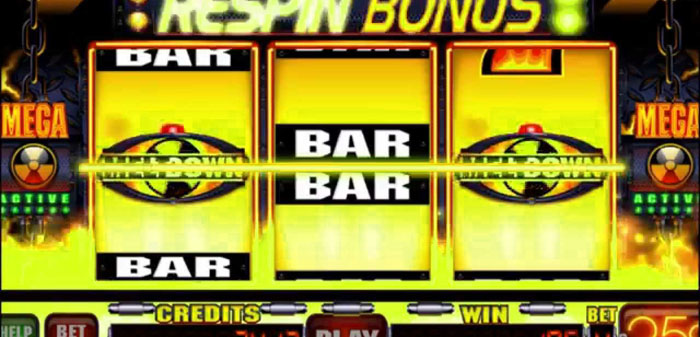 A good spin on a Mega Meltdown slot machine
Mega Meltdown by Multimedia Games
is a popular progressive slot machine game you will find in most casinos. Mega Meltdown is a classic style video slot machine -- that is, it is a 3-reel, 1-tier game without a lot of fancy graphics or video animations you find in other video slot machines these days. Because of that, most players may find Mega Meltdown rather boring to play, since you only have one pay line in which to win on, so the winning spins can be vastly outnumbered by losing spins. Mega Meltdown games come in different denominations: there are 25 cent machines, one dollar machines, five dollar machines, ten dollar machines, and 20 dollar machines, so it is important to know which denomination the game is before you sit down and start playing.
With the Mega Meltdown slot machine game, the MEGA symbol is the "wild card" and the top paying symbol is the "Mega Meltdown" symbol. Getting three Mega Meltdown symbols awards the top prize, and if you are betting maximum credits you will win the progressive awards for each winning combination rather than the standard, base awards. The other game symbols on the Mega Meltdown game are red sevens (which offer good payouts) and bars (one bar, two bars, or three bars, with various combinations of the bars offering smaller payouts.) Mega Meltdown features a "respin" bonus round, in which you will receive between 1-5 free spins.
The Mega Meltdown Respin bonus
The Mega Meltdown respin bonus happens randomly, and can be confusing when playing the game for the first time as to exactly what triggers the respin bonus. The Mega Meltdown respin bonus is triggered randomly, but only on spins with winning combinations. Once the Mega Meltdown respin bonus begins, exciting music begins to play in the background and you will receive between 1-5 free spins, with all the respins guaranteed to be winners.
The Mega Meltdown Progressive Jackpots
In order to win the Mega Meltdown progressive awards and the jackpot amounts, you must be betting maximum credits. There are progressive awards for six different winning combinations and the award amounts are displayed on the top of the Mega Meltdown machine. The top jackpot award is for getting three Mega Meltdown symbols in a spin. The second highest award is for getting three red sevens in a spin.
Personally, I rarely play the Mega Meltdown slot machines mainly because I usually lose money on them and they become boring to play after about 10-15 minutes since most of the spins are losers. The best spin I ever got on a Mega Meltdown game was $25 for three red sevens on a 25 cent spin. Some people love this game, and when looking at photos of jackpot winners on casino websites, you will see a lot of photos of jackpots won on the Mega Meltdown games. If you prefer old style slot machines, this may be a game for you.
---
For tips on how to find a HOT slot machine read this article:
How to find the HOT slot machines in casinos
For tips on how to win a bonafide jackpot read this article:
How to Win a JACKPOT on Casino Slot Machines
For tips on how to win BIG on the slot machines, check out this article:
How to win BIG at slot machines