Slot Machine Review: IGT's Megabucks Slots
Winning the jackpot on Megabucks can make you a multi-millionaire!
by Paul Ace Diamond "Huggy" Blow
The payouts on a Megabucks slot machine.
Megabucks slots by IGT
is a popular slot machine you will find in most Last Vegas and Nevada casinos, and what sets this slot machine apart from all the rest is that the progressive jackpot award starts at a whopping ten million dollars, and can go much, much higher! Winning the jackpot on Megabucks slots will make you a very, very, very rich gambler!
Megabucks is an old style, three column slot machine with just one pay line. Megabucks is a dollar slot machine, and you can bet one dollar, two dollars, or three dollars (the max bet) on each spin. However, to win the huge progressive jackpot award you MUST be betting three dollars. Other, smaller payouts are won with different combinations of bars (one bar, two bars, three bars), sevens, or the Megabucks symbol. The Megabucks symbol is the highest paying symbol, and getting three Megabucks symbols on a pay line awards the top prize. There are several variations of the original Megabucks slot machine, including Megabucks Double Diamond, Megabucks Double Times Pay and Megabucks Triple Double Stars.
The way Megabucks works is that the Megabucks slot machines in each Las Vegas casino are connected, which means when the progressive jackpot is won in one casino, the jackpot amount is reset to the base amount (currently ten million dollars) on ALL the Megabucks slot machines in Las Vegas. Currently, there are about 140 Nevada casinos that have Megabucks slot machines connected to this system.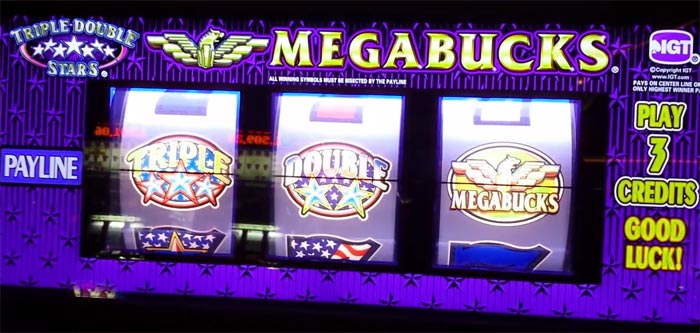 A winning spin on a Megabucks Triple Double Stars slot machine.
The Megabucks Jackpot
The Megabucks slot machine progressive jackpot award starts at ten million dollars, and progressively goes higher until some lucky gambler wins it, then is reset to ten million dollars. Getting three Megabucks symbols on a pay line awards the top prize, but you must be betting max credits (three dollars) to get the progressive jackpot amount, which makes it a good idea to be betting max credits on this game -- not ALL the time, but at least some of the time. Since its inception in 1986, the Megabucks jackpot has historically been won only 1-3 times a year, for example it was won once in 2016, once in 2015, once in 2014, and three times in 2013. In the year 2000 it was won six times. The highest Megabucks jackpot amount awarded was $39,713,982 back in 2003 (won at the Excalibur casino in Las Vegas).
The Downside of Megabucks Slots
Besides the fact that the Megabucks progressive jackpots are rarely won, the odds of winning the jackpot are just 1 in 49,836,032, which is worse odds than most state lottery games give. Also, if you do win the Megabucks jackpot you will be paid in installments over a 25-year period. Also, since the progressive jackpot awards are so large, the Megabucks slot machines typically pay out a much lower percentage on non-jackpot spins than other slot machines, meaning that most of your spins will be losing spins. I have personally tried playing Megabucks slots in Las Vegas, but most of my spins were losers, and I found the game to be very boring to play, since it has just the one pay line and no bonus rounds. All in all, while winning ten million dollars or more is possible on this slot machine game -- and that's what makes it so popular in Nevada -- overall Megabucks is a rather boring game that will eat your money, as far as I'm concerned. However, I probably will still give it a tryout on my next visits to Las Vegas, just because you never know!
The Megabucks Wynn Wheel slot machine
The Wynn Hotel and Casino in Las Vegas features a custom Megabucks slot machine designed by IGT exclusively for the Wynn's casino, called Megabucks Wynn Wheel. Megabucks Wynn Wheel differs from the regular Megabucks slot machines in that it is a five reel, three-tiered video slot machine game with 40 pay lines and two bonus rounds. You can bet as low as 60 cents per spin on the Megabucks Wynn Wheel, but still need to bet the $3 amount in order to win the $10,000,000 jackpot amount. The bonus rounds include a "pick a prize" bonus where you pick one of three "pick" symbols to reveal a prize, and the spinning wheel bonus where you can win up to five spins on the spinning wheel with up to a 6x multiplier. The Megabucks Wynn Wheel game is connected to all the other Nevada Megabucks slot machines as far as the multi-million dollar jackpot goes, but it is a much more fun game to play than the regular version. I tried it myself on my last trip to Vegas, and while I did not win the big jackpot, I worked a twenty dollar bill into $300 thanks to some generous spinning wheel bonus rounds.
---
For tips on how to find a HOT slot machine read this article:
How to find the HOT slot machines in casinos
For tips on how to win a bonafide jackpot read this article:
How to Win a JACKPOT on Casino Slot Machines
For tips on how to win BIG on the slot machines, check out this article:
How to win BIG at slot machines