Slot Machine Review: IGT's Mega Vault Slots
Mega Vault is a volatile slot machine with the potential for huge wins
by Paul Ace Diamond "Huggy" Blow
There are very few casino slot machines
that have the potential to win large amounts of money without betting maximum credits, but IGT's Mega Vault slot machine is one of them. This is a volatile slot machine that can -- and often does -- give very large payouts, not just in the bonus rounds but also on regular spins. I personally have been experimenting with this game recently and have had some good success playing the game, and it has become one of my favorite slot machines to play in the casinos.
Mega Vault slots is one of IGT's "Multi-way Xtra" games that features 1024 possible ways to win (not one of the traditional video game slots with pay lines), and has multipliers in the base and bonus games that create the big wins. It is a five reel game, and the multipliers include a 2x multiplier on the second reel, a 3x multiplier on the third reel, and a 4x multiplier on the fourth reel. The big wins in the base game come when you get all three multipliers in a spin, which multiplies all winning combinations up to 24x. The "dollar sign" symbol is the best paying symbol in the game, and that combined with the multipliers make for large payouts. On the Mega Vault slot machines in most casinos, the minimum bet is 40 cents per spin, and you can also bet 80 cents, $1.20, $1.60, $2.00, $2.40, $4, or $4.80. There also is a bonus round -- which features locked multipliers -- which comes into play when you get three or more "Mega Vault" bonus symbols on a spin.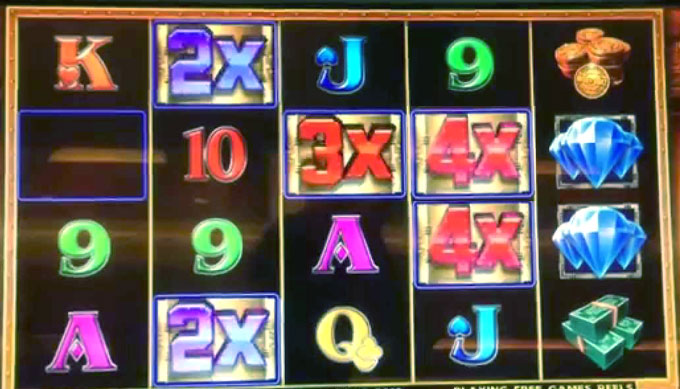 The locking multipliers in the bonus round create huge wins
The Mega Vault bonus round
The Mega Vault bonus round is where you have the chance to win very large amounts of money even without betting maximum credits. Getting three "Mega Vault" bonus symbols on a spin gives you the bonus round with five free spins and locking multipliers. Four "Mega Vault" symbols will give you eight free spins, and five symbols gives you ten free spins. During the bonus round, if you get the bonus symbols on the first and fifth reel (the only reels they appear on in the bonus round) you retrigger the bonus and get another two free spins.
The locking multipliers during the bonus rounds create very large payouts. If you are lucky enough to get the multipliers in the bonus spins, they stick for the duration of the bonus round. Getting the 2x, 3x, and 4x multipliers will multiply winning combinations by 24x, and if you are even luckier and get additional free spins you can win big. The more free spins you get and the more multipliers you get, the bigger the win will be. Personally, so far I have won bonus round amounts of $1079, $660, $549, and $510, all on 80 cent spins. It is not rare to see photos of Mega Vault jackpot winners who win $20,000-$75,000 on bonus rounds (although they were probably betting maximum credits, or betting large amounts on Mega Vault machines with max bets of up to $20).
Winning strategies for Mega Vault
I have been experimenting with this slot machine game and so far have had some good success with it, but I have found that most regular spins in this game will be losers or pay out just a small amount. Maybe once every 40 spins you will get some multipliers that give you 10-20x your bet, and once in a while all three mulitpliers with the dollar symbols that pay hundreds of dollars (even thousands with maximum bets). The bonus rounds -- where you can really win big -- only come around maybe once every 150 spins or so, and often times they will be disappointing with no multipliers and small wins. If you find yourself on a Mega Vault game that gives you very few winning payouts in 40 spins or so, and lots of bonus round "teasers" (where you just get two bonus symbols on a spin), the chances are the game is cold and if you do get a bonus round it will not pay well. If you find yourself on a cold Mega Vault machine, try moving to another one. If, however, you find yourself on a Mega Vault game that is paying out good wins with multipliers, the chances of getting a nice bonus round are much better. If you find that all the Mega Vault machines in a bank are running cold, give them a break and try them later.
All in all, IGT's Mega Vault slot machine is a good game to play if you are looking for some big wins without having to bet maximum credits. As I've said, I've had my success just betting 80 cents a spin, and can attest to the fact that you can indeed win big amounts on this game. It's not the most exciting game in the casinos, or the flashiest, or the most fun to play... but in the end it's the potential for very big payouts that make it one of my top five casino slot machines to play.
---
For tips on how to find a HOT slot machine read this article:
How to find the HOT slot machines in casinos
For tips on how to win a bonafide jackpot read this article:
How to Win a JACKPOT on Casino Slot Machines
For tips on how to win BIG on the slot machines, check out this article:
How to win BIG at slot machines
$$$ Go to the Paul Diamond Blow Casino VIP Lounge homepage for more casino tips and advice articles $$$