Slot Machine Review: Bally's Mega Winner Slots
Mega Winner is an interesting slot machine game with an exciting bonus round
by Paul Ace Diamond "Huggy" Blow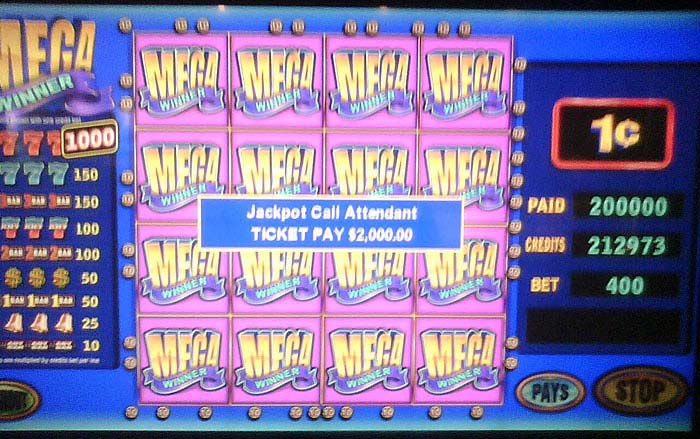 A $2000 Megawinner jackpot bonus round at $4 per spin.
Mega Winner
(by Bally Technologies) is a very interesting slot machine game and has become one of my favorite slot machine games to play in casinos. Mega Winner consists of 16 reels with 40 possible lines and plays much different than most casino slot games. With Mega Winner, a winning combination must consist of four winning symbols in a line. The symbols in Mega Winner are digits (1, 2 and 3) dollar signs, bells, blue sevens, and red sevens. A winning combination will pay anywhere from ten cents per penny bet (for four unmatched digits) up to to ten dollars (for four red sevens). The winning payouts are as such:
Four unmatched digits (1-3): ten cents
Four bells: 25 cents
Four dollar signs: 50 cents
Four ones: 50 cents
Four twos: $1.00
Four unmatched sevens: $1.00
Four threes: $1.50
Four blue sevens: $1.50
Four red sevens: $10.00
The Mega Winner bonus round comes into play when five or more "Mega Winner" symbols come up on a spin; then you go into the bonus round which holds the existing Mega Winner symbols and gives you free spins as long as at least one more Mega Winner symbol comes up on each respin. The top award is achieved when you get all 16 reels filled with the Mega Winner symbol. On a forty cent bet, 16 Mega Winner symbols will pay $200, 15 symbols pays $100, and 14 pays $40. The maximum bet on Mega Winner is $4.00 per spin, so the top award pays $2000 at max credits.

The way to win money playing Mega Winner is with the bonus rounds, which come up frequently at about 1 in 29 spins average (according to the manufacturer). Quite frankly, the regular "winning" spins on a Mega Winner game do not pay enough to put you ahead; it's the bonus rounds that will make or break you. The bonus rounds are indeed quite exciting, and I personally have had good luck on Mega Winner games, having gotten 15 squares filled with the Mega Winner symbols many times. The strategy I like to employ when playing Mega Winner is to count how many spins I've played in between each bonus round. For instance, if I have played 20 spins without getting a bonus round, I may up my bet in anticipation that a bonus round will come soon. Of course, sometimes you may get a bonus round after only five spins, other times you may have 80 spins without a bonus. Usually, if the bonus rounds I get on a Mega Winner game do not pay well, I will move to another Mega Winner game and try my luck there.

Mega Winner II
Mega Winner II is the second version of the Mega Winner slots game, and this game plays the same as the original version except that Mega Winner II offers a "second chance" option (for ten cents more per 40 cents bet; so a 40 cent spin becomes a 50 cent spin). With the "second chance" option in effect, if you fail to get a Mega Winner symbol on a bonus round spin, you get another chance (another spin). However, the "second chance" feature is only good up to ten Mega Winner symbols; that is, you will not get a "second chance" if you have ten or more Mega Winner symbols and fail to get another one on a bonus round spin.

Also, with Mega Winner II, the top prize (16 Mega Winner symbols in a bonus round) happens twice as frequently as it does in the original version. I myself have achieved the top prize in Mega Winner II over 25 times so far (including a handful of $1200 and $2000 jackpots) and have only achieved it maybe ten times in the original version. On the downside, while Mega Winner II gets much better paying bonus rounds with the "second chance" feature added, the regular spins do not pay as well as the original version.
Mega Winner II is a more expensive game to play than the original Mega Winner, since the minimum bet is 40 cents (40 lines). The minimum bet on the original version is one penny (one line). I personally like Mega Winner II better than the original version just because I win money much more often on it thanks to the "second chance" and the better paying bonus rounds. Be warned, though: this game can eat your money fast if you do not get good bonus rounds! All in all, Mega Winner is fun to play and one of the more exciting slot machine games you will find on a casino floor.
---

For tips on how to find a HOT slot machine read this article: How to find the HOT slot machines in casinos

For tips on how to win a bonafide jackpot read this article: How to Win a JACKPOT on Casino Slot Machines

For tips on how to win BIG on the slot machines, check out this article:
How to win BIG at slot machines