The Walmart "Mystery Shopper" Scam
Get paid to be a Walmart mystery shopper? Don't fall for this scam!

by Paul Diamond Blow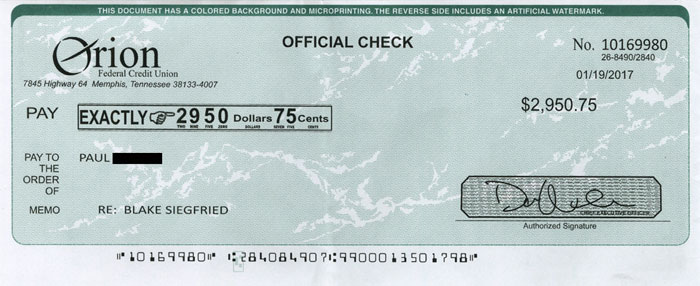 A bogus Walmart "mystery shopper" check for $2950. It's a fake!
If it sounds too good to be true, it probably ain't true.
This old rule of thumb applies to the Walmart "mystery shopper" scam that has been making the rounds since 2011, and in January of 2017 I almost fell for it myself! Here's my own personal experience with the good, old Walmart "mystery shopper" scam, and you can consider this my Public Service Announcement for the day...
I was surfing my Facebook news feed one day when I saw a paid advertisement post that sounded intriguing... It said something like "get paid good money to be a Mystery Shopper for Walmart!" The post looked like an official Walmart ad, and Facebook wouldn't allow scammers to advertise on their site, would they? (Yes, the DO!) I took the bait, clicked on the link, and was taken to a site where I filled out a short "application" form to be a Walmart mystery shopper. I thought, "Why not, I'll check it out."
The next week, in the mail I received a Priority Mail envelope sent by a Robert Vanis at Level One Outsource. It contained an official looking letter with instructions, a survey sheet, and... a CHECK for $2950.75! (a scan of the actual check is shown above). I immediately smelled a scam, and wondered why I received this package. Then it came back to me -- that Walmart mystery shopper advertisement on Facebook.
"Congratulations on receiving your first survey packet," the instruction letter read. "READ AND FOLLOW THE INSTRUCTIONS CAREFULLY." The instructions said to first go to the bank and deposit the check, then email walmartshoppers@icloud.com so they would clear the check. Once the check cleared and the money was available, the instructions said to go to a Walmart store and purchase $50 worth of merchandise, and then fill out the survey sheet. The instructions said I would get paid $300 for this simple task, plus $30.75 for gas/transportation. (There were no instructions on where to send the survey sheet!)
The third step was the where the scam set in... The instructions said to go to a Walmart Money Center and send two money wire transfers: $1250 to Talia S. Winter in Houston, Texas, and $1250 to Shania T. Winter in Houston, Texas. "There are complaints about sending money to TEXAS using Moneygram & Walmart this is what we are investigating," the instructions said. Yeah... right! I don't know who Talia S. Winter or Shania T. Winter are (probably fake names or stolen identities), but rest assured I did not wire transfer them any money, nor did I deposit the fake, bogus check.
After reading the instructions I did a little googling and found out that this Walmart Mystery Shopper scam has been making the rounds since 2011. The Walmart Mystery Shopper scam works like this: if you were to actually deposit the fake, bogus check at your bank, the bank is required to make the funds available to you, so it looks like it is for real. However, one or two weeks later -- when the bank determines the check is a fraud -- you will be LIABLE for that money! If you took the bait and actually sent off those Walmart money transfers, you would be out $2500! Yes, some people actually fall for this...
So there you go... the dirt on the Walmart mystery shopper scam. On Walmart's own official website they warn against this scam, and say they do not hire mystery shoppers! You have been warned -- do not fall for the Walmart mystery shopper scam. If you receive one of these packages with a fake check, rip it up into a thousand pieces and scatter it to the winds!
(To view the actual instruction letter I received, click this link)