Top Ten Things to do at Ocean Shores in Washington
(according to Paul Diamond Blow, beach enthusiast)

by Paul Diamond Blow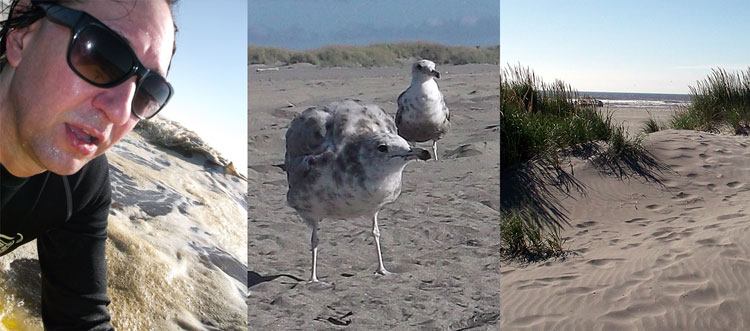 Ocean Shores is a small resort town in Washington State located right on the coast of the Pacific Ocean. Ocean Shores features over six miles of sandy beaches and is Washington's number one beach getaway. There are many things to do in Ocean Shores, any time of the year, but listed here are my personal favorite activities. I myself go to Ocean Shores for a week every August (when the Ocean water is the warmest) and also a couple times during the Fall/Winter (when motel rates are cheap). It is advisable to bring some warm clothing with you as it can be cold and misty in Ocean Shores even in the Summer months.
1) Boogie Boarding
My favorite thing to do at Ocean Shores is to rock the waves on my boogie board, baby! The ocean waves are magnificent when the tide is coming in, and there's nothing like being out there in the Ocean -- just me, my board, and the waves. The water is warmest in August, but it is still advisable to wear a wet suit when surfing the waves. There is a surf shop located in town where you can rent or buy boogie boards and wetsuits for cheap (by the hour or by the day). They also rent surf boards and give surfing classes, but I have never actually seen anyone successfully surf the waves at Ocean Shores on a surf board. Boogie boards are the way to go! With a decent board it is easy and a heckuva lot of fun to ride the waves. Surfs up, baby!
2) Relax on the Beach
The six miles of sandy beach are the main attraction of Ocean Shores, of course, and if you make a trip out here you simply MUST go to the beach or you are cheating yourself. A simple walk on the beach can be very relaxing and a spiritual experience, even. Or, set up a beach chair and read a book, roast a hot dog on a small fire, fly a kite, build a sand castle, feed the sea gulls, jam on an acoustic guitar, write some poetry. You get the picture! The beach at Ocean Shores is so huge that even in the Summer months you can find a spot all your own and not feel crowded. The Jetty (located on the southern tip of Ocean Shores) is a must see and a popular spot, as it is a great place for bonfires (lots of driftwood everywhere), seal watching (they hang out near the rocks of the Jetty) and UFO watching (I swear I saw one hovering in the sky after dusk one year!)
3) Hit the Hot Tub or Swimming Pool
There are many motels and hotels in the town of Ocean Shores and most of them have swimming pools and hot tubs. I personally will only stay at a motel that has both, as after a boogie boarding session there is nothing better than hitting the hot tub and soaking the old bones. You never know what the weather will be like in Ocean Shores -- it is often misty and cloudy even in the Summer -- so it's always good to have a swimming pool and/or hot tub to relax in on a misty, cloudy day. My personal favorite motel here is the Sands Resort which features both an indoor and an outdoor pool plus two private hot tubs.
4) Horseback Riding / Mopeds
It is a total blast to bomb down the beach on a moped, and in Ocean Shores you will find several places that rent out mopeds by the hour. They are getting a bit expensive lately, though -- the average price for a moped is about 18 dollars an hour. You can also rent bicycles and other pedal-operated gizmos to ride on the beach or just around town. You can also do some horseback riding on the beach as part of a group for around 20 dollars an hour. (Side note: Watch out for the horse turds on the beach!)
5) Gift Shopping
There are scores of tourist gift shops in Ocean Shores where you can buy beach gear, puka shell jewelry, clothing, pirate related gifts, postcards, shells, weird touristy stuff, and all sorts of Betty Boop merchandise (she seems to be popular here). I personally like to shop at the 2-dollar store first, as often times they sell the same items you find in the other shops for much cheaper. There is also a new gift shop called "Sharkys" located right near the beach which features a giant shark head/jaws over the door way and a large assortment of shark-related merchandise. It's a must see!
6) Eating at Restaurants
Almost any kind of food you want you will find in Ocean Shores. They've got over 25 places to eat here: Mexican restaurants, taco shacks, burger joints, pizza joints, malt shops, fish and chip shops, an Irish restaurant, fancy sit down restaurants (the Shilo), and even a Subway and a McDonalds. The McDonalds features great prices on fancy ice cream cones and sundaes -- the kind that you DON'T find in any other McDonalds. My personal favorite places to eat in Ocean Shores are at the Lucky Dragon (Chinese food) and the Sand Castle (burgers and fish and chips).
7) Arcades
There are a few old-style arcade joints in Ocean Shores where you can play all sorts of video games (most of them from the '80s, it seems). The biggest and best arcade joint in Ocean Shores is the Family Fun Center which besides a large assortment of old video games also features putt putt golf and a water ride. There are also a couple places in Ocean Shores where you can ride around an outdoor track in small, gas powered go-carts. Fun for the whole family! Most of these arcades operate only during the Summer months, though.
8) Bowling / Movie Theatre
Ocean Shores also features a bowling alley and a movie theatre. The bowling alley also has fast food, pool tables, and video games and operates year round. I usually bowl a couple games here every time I visit, and while it's not the best bowling alley I've been to, it is never too crowded and it's a fun place to visit on a cold, misty day. I've never been to the movie theatre in Ocean Shores, but it is a multi-plex theatre that features first-run films.
9) Camping
If camping is your thing, Ocean City State Park is a nice 170 acre state park located just five miles outside of the town of Ocean Shores, and it features easy access to the ocean beach. I've camped here myself several times, but nowadays I prefer to stay in motels. It's not necessary to bring too many camping supplies with you here, as most everything you need can be purchased in town. There are 149 standard camp sites, 29 full utility camp sites, and it operates year round. Ocean City State Park does get crowded during the peak Summer months, so it is advisable to reserve your spot at least a month in advance.
10) Casino / gambling
If gambling is your thing, the Quinalt Casino and Resort is located just five miles outside of the town of Ocean Shores (just north of Ocean City State Park). This is a tribal run casino which features over 500 slot machines and your basic table games. There is live music on the weekends, and I have found that the best time to go here is after midnight on the weekends, or mid-week, when it is not too crowded. I hear the Quinalt Resort has nice rooms with a hot tub in each room!
There you have it -- the top ten things to do in Ocean Shores! This town is so small that once you park your car at your motel you will not really need to drive at all, as everything you need is within walking distance. Check it out, hit the beach, and tell 'em Paul Diamond Blow sent you!

Enjoy this article? Buy Paul Diamond Blow's new book Tales From Outer Space