Paul Ace Diamond Blow's VIP CASINO LOUNGE
Casino advice, tips, tricks, and reviews for the high roller, low roller, and everyone in between
by Paul Ace Diamond "Huggy" Blow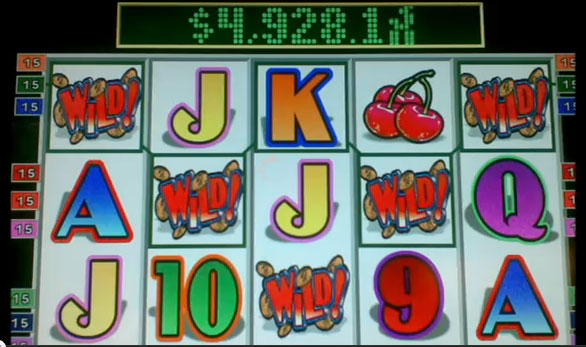 WELCOME to Paul Ace Diamond Blow's VIP Casino Lounge!
Here everybody is a VIP. If you are looking for tips, tricks and advice for casino slot machine gaming you have come to the right place! Here all is revealed: tips and advice on slot machine gaming, reviews of casinos and slot machines, and tips on how to increase your chances of walking out of the casinos with more money than you walked in with... and have a good time while doing it! Do you feel lucky? Well, DO YA? Read on and enjoy...!

SLOT MACHINE TIPS
How To Win at Casino Slots: PDB is a professional gambler (sort of). Here are his tips on how to win at casino slots, or at least have a good time playing them.

How To Win BIG on Casino Slots: PDB's tips on how to make the big score on the slot machines -- not for the faint of heart!

How To Win a JACKPOT on Casino Slot Machines: PDB's best tips for hitting the big jackpots without losing your shirt.

How To Find the HOT (or loose) Slot Machines in Casinos: PDB's tips on how to find the hot slot machines that are on WIN mode!

Can You Get Rich Playing Slot Machines?: PDB lays out the facts on getting rich playing slot machines, or at least making a living playing them. A must read!

How To Play Penny Slot Machines: A basic guide on how to play penny slot machines for the novice gambler.

Slot Machine and Casino Rituals: Do They Bring Luck?: PDB lists the top rituals that superstitious gamblers employ to bring the good Mojo!

Strategies for Winning on Casino Slot Machines: A condensed article with all the best tips to win CONSISTENTLY on casino slot machines. Do it!

The best time to go to casinos to win at slot machines: PDB discusses the best time of day, days of the week, and even months of the year to win at casino slot machines.

Slot Machines: Should You Bet Max Credits?: PDB discusses the theories and realities of betting maximum credits on casino slot machines. A MUST READ!

How much money should you bring to a casino?: PDB discusses how much cash money you should bring with you to a casino to play the slot machines.

Common Mistakes People Make with Slot Machines: PDB discusses the most common mistakes people make when playing casino slot machines, and why they should be avoided.

Slot Machines: 1024 ways to win games: PDB discusses exactly how the "1024 ways to win" slot machines work, and why he plays them.

Slot Machine Tournaments: how to play, how to win: Slot machine tournaments are free to enter and offer cash prizes. Here's the low down on how to play them, and how to win.

The Gambler's Prayer: A short prayer written by Paul Diamond Blow to bring fortune and good luck when playing at the casinos.


LAS VEGAS TIPS AND ADVICE
Top Ten Things to do in Las Vegas on a Budget: PDB's tips of how to have fun in Las Vegas WITHOUT being a high roller!

Las Vegas Casino review: which Vegas casinos have the loosest slots?: PDB reveals which Las Vegas casinos have the best payout rates on the slot machines and which have the worst. A must read if you play slot machines in Las Vegas casinos!

The Top Five Coolest CHEAP Hotels in Las Vegas You don't have to be a high roller to stay in Las Vegas in style... do it on the cheap at these five affordable Las Vegas hotels.

5 Ways to Get the Cheapest Rates at Las Vegas Hotels Five great tips on how to get the cheapest available rates at Las Vegas hotels, and cheap airline flights to boot!

How to Get FREE Slot Play in Las Vegas Casinos: Wanna Gamble on the Slot Machines in Las Vegas with Free Money? Here's How!

The Fremont Experience in Old Las Vegas: a Must See!: PDB writes about the Fremont Experience extravaganza in Old Las Vegas.

How to Get FREE Booze Drinks in Las Vegas Casinos: Want to Get Your Booze on for FREE in Las Vegas? Here's How.

How to get to and from the Las Vegas airport on the bus: Don't waste your money on taxis or airport shuttles, take the RTC bus instead! Info is here...

Ride the Deuce Bus in Las Vegas! Cheap 24 Hour Transportation on the Las Vegas Strip: PDB reviews the Deuce Bus in Las Vegas... it's a sweet ride!
Las Vegas Airport slot machines:McCarran Airport in Las Vegas has over 1300 slot machines, but should you bother playing them?


CASINO REVIEWS
Washington State Casino Review: PDB reviews the best Washington State Tribal casinos. Which offers the loosest slot machines? Read to find out...

The Tulalip Casino: PDB reviews one of his favorite gaming establishments, the Tulalip Resort and Casino.

The Stratosphere Hotel and Casino: PDB reviews the Stratosphere Hotel and Casino in Las Vegas.

Casino Club Cards: why you should have one, and how to use it: The ins and outs on how to properly use a casino player's card to earn cash, discounts, and other benefits.


SLOT MACHINE REVIEWS
Top 3 Slot Machines for BIG WINS with Small Bets: You don't have to bet large to win big on these three volatile slot machine games.

Slot Machine Review: IGT's Dangerous Beauty slots: Review of the fun and popular Dangerous Beauty slot machine.

Slot Machine Review: IGT's Megabucks slots: Yes, you can win ten million dollars or more on the Megabucks slots! PDB reviews the game here...

Slot Machine Review: IGT's Wolf Run Slots: Review of the popular Wolf Run slot machine game.

WOLF RUN SLOTS: authentic slot machine action on your home computer: Review of IGT's computer game version of Wolf Run slots, played on your PC (with no real money involved).

Slot Machine Review: Bally's Mega Winner slots: Review of the exciting Mega Winner slots game, a PDB favorite!

Slot Machine Review: Bally's Copper Dropper slots: Review of the simple but popular Copper Dropper slots game.

Slot Machine Review: Jade Monkey slots: Review of the simple yet fun Jade Monkey slots game.

Slot Machine Review: Bally's Quick Hit Platinum slots: Review of the highly entertaining Quick Hits slot machine series.

Slot Machine Review: Betty Boop's Love Meter: Review of the very fun Betty Boop's Love Meter slots game.

Slot Machine Review: IGT's Betti the Yetti: Review of the entertaining Betti the Yetti slot machine game.

Slot Machine Review: IGT's Triple Fortune Dragon: Review of the very popular Oriental-themed slot machine game by IGT.

Slot Machine Review: IGT's Mega Vault: Review of the very volatile slot machine game by IGT.

Slot Machine Review: Aristocrat's BUFFALO slot machine: Review of the very popular Buffalo slot machine games by Aristocrat.

Slot Machine Review: Multimedia Games Mega Meltdown: Review of the very popular Mega Meltdown slot machine game by Multimedia Games.

Slot Machine Review: IGT's Cleopatra slots: Review of the very popular Celopatra and Cleopatra II slot machine games by IGT.

Slot Machine Review:Aristocrat's Timber Wolf slots: Review of the popular Timber Wolf slot machine game by Aristocrat.

Slot Machine Review: Bally's 88 Fortunes slots: 88 Fortunes is a fun slot machine game with four progressive jackpot prizes.

Can you win a MILLION DOLLARS on a slot machine?: Yes, you CAN, on several IGT slot machines. PDB reviews the game here...


FREE ONLINE SLOT MACHINE DEMO GAMES
Bally's Quick Hit Platinum Slots: The official FREE online demo version of the popular Quick Hits Platinum slots game. (Demo version, no real money is involved.)

Bally's Hot Shot Slots: The official FREE online demo version of the popular Hot Shot slots game. (Demo version, no real money is involved.)


GAMBLING ON THE STOCK MARKET ARTICLES