Slot Machine Review: Bally's Quick Hits Platinum Slots
Quick Hits Platinum is an interesting slot machine game with several ways to win big
by Paul Ace Diamond "Huggy" Blow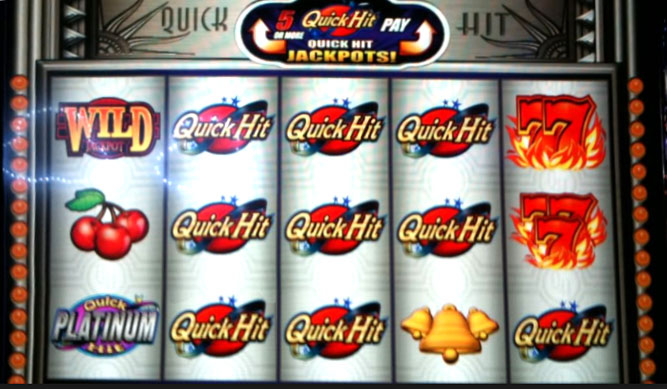 Nine Quick Hits on a spin win a large award.
Quick Hits Platinum
(by Bally Technologies) is a very interesting slot machine game and has become one of my favorite slot machine games to play in casinos. There are many variations of the Quick Hits game including the original
Quick Hits, Quick Hits Platinum, Quick Hits Stars and Bars
, and
Playboy Platinum Quick Hits
. My personal favorite is the Playboy Platinum game as it features some hot Playboy bunnies. You will find these Quick Hit games in most every casino as they have become very popular among slot machine enthusiasts due to the exciting nature of the game. What makes these games exciting is that there are several ways to win big on a spin: by getting five "jackpot" symbols (which pays the jackpot amount), by getting three "free games" symbols (which puts you in the bonus round), or by getting five or more "quick hits" symbols on a spin. Quick Hits Platinum is a progressive game and the jackpot amounts are often more than $15,000. Of course you must be betting max credits to get the higher progressive payouts. These Quick Hits games are also typically linked to each other -- that is, if a player on one Quick Hits game hits one of the progressive payouts, that payout will go back to the default payout on all the other linked machines. Quick Hits slot machines usually have a 30-cent minimum bet, with a max credits bet of $3.00.
Winning with the Quick Hits symbols
On the Quick Hits slot machines, you win money when you get at least three Quick Hits symbols on a spin. Three Quick Hits will win your initial bet back, four Quick Hits get you 5x your bet, five get you 10x the bet, six get 50x the bet, seven get 100x the bet, eight get 650x the bet, and nine Quick Hits get you 2000x the bet. For 5-9 Quick Hits you will win the progressive amount if you are betting max credits, which can be a much larger amount than the base amount.
The Quick Hits bonus round
Getting three "free games" symbols in a spin puts you into the bonus round. In the Quick Hits bonus round you are presented with a screen of tiles and instructed to pick tiles. The tiles give you either 5, 7, 10, or 15 free spins with a 2x multiplier, or 20 free spins with a 3x multiplier (the Playboy Platinum version gives 25 free spins). There is also one "wild card" tile which also gives you an extra five free spins. The best combination you can choose would be two 20 free spins tiles and the wild card, which would give you a total of 25 free spins with a 3x multiplier. Once in the bonus round you can retrigger the bonus by getting another three "free spins" symbols in a spin. If you are extremely lucky you will hit 5-9 Quick Hits symbols on a spin with the 2x or 3x multiplier in a bonus round which would give you a nice big win.
The Quick Hits jackpot
Getting five "Platinum" symbols in a spin will award you the jackpot amount, which is often over $15,000 on these progressive, linked games. To get the high progressive payout you MUST be betting max credits ($3.00). On a non-max credit bet you will get 5000x your bet with five Platinum symbols.
Winning strategies for playing Quick Hits Platinum
Generally I just play the minimum bet (30 cents) when I play this game, but if the progressive payouts for five or more Quick Hits symbols are unusually high I might bet max credits. If you are looking to win big on this game you should be betting max credits to get those higher progressive payouts. The best I've ever done with this game has been hitting six "Quick Hits" symbols in a spin (four or five times) and getting 60 free spins in the bonus round (by retriggering a 25 free spins plus wild card combination). All in all, I've never really won big on this game myself (I've never lost big either), but it is a fun game to play even at minimum credits. The potential to win a small fortune on this game is there, and the max credits bet of $3.00 is a more affordable max bet than you will find on most other slot machines.
Try out the FREE online demo version of Bally Quick Hits Platinum here (Free demo version, no real money involved).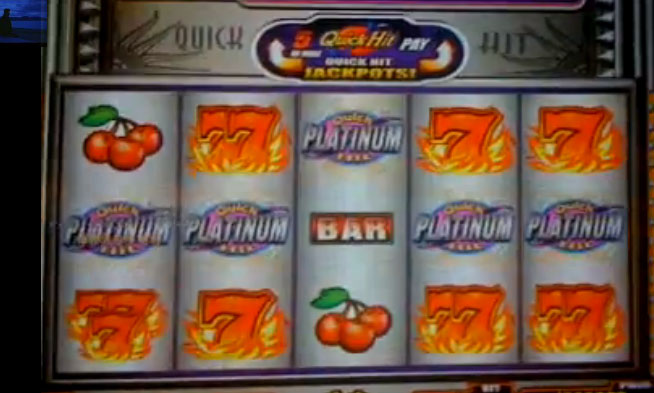 Five jackpot symbols win the top award.
$$$ Go to the Paul Diamond Blow Casino VIP Lounge homepage for more casino tips and advice articles $$$