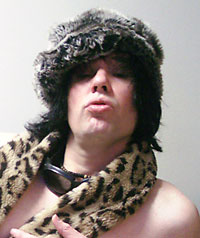 About the author:
Paul Diamond Blow is a musician, spoken word artist, kung fu master, punk rock star, and enjoys writing swell articles about the rocknroll life, guitars, bands, and other odd ramblings with the rock musician in mind. His current band the SPACE CRETINS plays regularly in the Seattle area. Paul Diamond Blow writes his "HUGGY TALK" column for the Seattle Sinner and St. Louis Sinner magazines.


---






Related articles:
Top ten things to do in Las Vegas on a budget

How to win at casino slots (or at least have a good time)

How to get FREE slot play in Vegas casinos

The Top Slot Machine Rituals to Bring Good Mojo

Casino Club Cards: how to use them to earn cash and other benefits

The Best Cash Back Rewards Credit Cards



Paul Diamond Blow's "Huggy Talk" articles are copyright (c) 2011 Paul Diamond Blow
Webmaster: Cornelius Zephyr
privacy policy





How to Win BIG on Casino Slot Machines
Want to Win BIG on the Slot Machines? Here's how to do it.
by Paul Ace Diamond "Huggy" Blow

A jackpot win on a hot Copper Dropper slot machine.





If you want to win BIG on casino slot machines, it can be done. If you have been in the casinos you have probably seen people win jackpots of a couple thousand dollars or so on the slots, and you think, "Why can't I do that?" Well, you can...Yes, you too can get lucky and get a nice winning payout on the slot machines -- and I'm talking hundreds or even thousands of dollars if you hit the "jackpot" or even a good bonus round on the machines. Now then, the secret to winning big on the casino slot machines is that you have to BET big in order to get the good payouts, and most importantly you have to be lucky enough to get a good payout before you lose all your money. That being said, in order to win big on the slots you need THREE things:

1) A bankroll of at least a few hundred dollars THAT YOU CAN AFFORD TO LOSE
2) The LUCK to hit some good payouts BEFORE you lose your bankroll
3) The discipline to LEAVE the casino before you lose your winnings


You will need a good bankroll simply because to win big on the slots you will have to bet at least a dollar or more per spin. Most new penny slot machines these days actually have a minimum bet of at least 50 cents (yes, they are getting more expensive to play) and the max bet is anywhere from $4-$20 dollars. The more you bet, the more you win on a good combination or bonus round. The thing is, there is NO GUARANTEE you will hit a good winning combination or bonus round before you lose your bankroll! To win big, you simply must hope to holy heck that you get a good winning combination (or jackpot, or whatever you want to call it) early on in your gaming session! If you do get lucky and hit it big, you should also have the discipline to leave the casino while you are ahead. If you continue playing for hours, you will probably lose your winnings.

Realistically speaking, the top prizes or "jackpots" that pay over a thousand dollars are so infrequent you may never see one in your gambling career. Your better bet for winning big on slots is to get enough good paying combinations (usually called "big wins" on the machines) or bonus rounds that will put you ahead a couple or a few hundred dollars. Don't wait on the $2000 jackpot to come through, it may never come!

Personally, I rarely bet maximum credits on a slot machine (I usually bet anywhere from 50 cents to a dollar per spin, depending on the game) but I have won three $2000 jackpots on my favorite game "Megawinner" at $5 per spin and two $1200 jackpots at $3 per spin. I will only bet the max credits on a game if it is "hot" and paying out. Most every time I won a jackpot I was down over $200 before I hit it big. Something to think about: when someone wins a large jackpot on a slot machine, chances are they were betting max credits and were down hundreds of dollars (or more) before they hit the jackpot. One more thing to be aware of: if you win $1200 or more on a slot machine in a single spin or bonus round that money will be reported to the IRS and you will be required to pay taxes on it. The casino will give you the option of having 25% of the jackpot money set aside for taxes or you can be paid in full and pay the taxes at the end of the year.

There are things you can do to improve your chances of winning big on slot machines. For one, do NOT waste your money playing a game that is not paying out! When I play slot machines I routinely move from game to game looking for a "hot" machine that is paying out... when you find such a machine THAT is the time to start betting big. There is no guarantee that you will find a "hot" slot machine every time you go to the casino, but to increase the chances you should go to the casinos on off nights or after 2:00 AM on weekends when they are less crowded and you have more open games to choose from. Also, if your "hot" game starts cooling down, decrease the size of your bets until you are sure the game is not "hot" anymore, then move to another game. There are many theories about "hot" games among the so-called experts, but experience tells me that slot machines do indeed run in cycles of sort.

All in all, it is possible to win big on slot machines from time to time when you get lucky. However, you may simply lose your shirt -- so BE CAREFUL and do not try to bet like a high roller unless you can afford to lose like a high roller!

For more on how to find a HOT slot machine read this article: How to find the HOT slot machines in casinos

For more on how to win a bonafide jackpot read this article: How to Win a JACKPOT on Casino Slot Machines

For tips on how to have FUN on the slot machines without betting big, check out this article:
How to win at slot machines (or at least have a good time playing them)