Product Review: the Dell Ultrasharp U2412M Monitor
Sturdy, affordable and great for graphic arts!

by Paul Ace Diamond "Huggy" Blow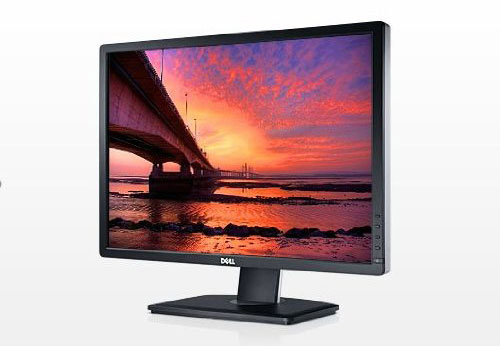 I've been using a 22" inch Acer monitor on my home computer for the last few years, which I was happy with, but I decided what I needed was a 24" monitor with a 16:10 aspect ratio. Most 24" monitors sold today are the 16:9 ratio which are fine for watching widescreen movies on your computer, but not so great for doing graphic arts work. The 16:10 ratio gives you more vertical height and better resolution overall than 16:9. However, 24" montitors with the 16:10 ratio sold today are generally more expensive than the 16:9 monitors, and are getting harder to find.
I searched the web for the best affordable 24" 16:10 monitor available, and I chose the Dell Ultrasharp U2412M monitor because it got very good reviews on the web, was affordable ($309 on Newegg.com), and had some features other monitors in its class did not have, such as USB connectors and a 90 degree swivel.
I ordered the Dell U2412M monitor and upon receiving it and connecting it to my computer was pleased as punch with it right off the bat. The first thing I noticed about this monitor was how heavy the stand is -- which is a good thing! The stand is strong, durable, and very high quality -- much better than the stand I had with my 22" Acer. The monitor was very easy to set up (as most monitors are) and I had no problems in that regard.
Color wise, I was pleasantly surprised that the color with this monitor was very good right out of the box. Since I do Photoshop graphic arts work it is very important that how an image displays on the screen is a very close match to how it will look when printed by a professional printer. Most LCD monitors I have used usually are far too bright for graphic arts work straight out of the box and require some brightness/contrast adjustments as well as some calibration. I only had to make minor adjustments to the brightness and contrast settings with the Dell Ultrasharp and it was ready for Photoshop work.
The Dell U2412M monitor's control panels are very easy to work with, and it is also very easy to adjust the height, pivot and swivel of the monitor on the stand. There are both VGA and DVI connectors on the back and this monitor also has four USB connectors, which come in very handy.
Overall, I am very pleased with the Dell Ultrasharp U2412M monitor. I'd say it is an excellent product suitable for professional graphic arts work, and of sturdy, solid construction. I would recommend this monitor to anyone looking for a 24" monitor with a 16:10 aspect ratio for graphic arts work, or even for general use.
Pros:Very high quality, 16:10 ratio, great color right out of the box, USB connectors

Cons:None
The Bottom Line: The Dell U2412M monitor is an affordable, high quality 24" monitor with a 16:10 ratio, and is suitable for professional graphic arts work as well as general use.


Author Paul Diamond Blow works as a production artist for a major book publisher with over ten years experience in the field. He is a Photoshop wizard, an Indesign samuri, and a sweetheart of a guy..